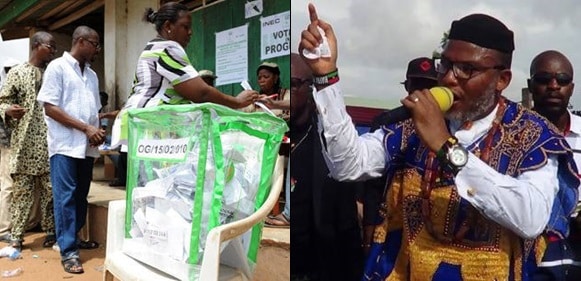 The pioneer of the Indigenous People of Biafra, IPOB, Nnamdi Kanu has said the delayed presidential decision for Saturday may not hold.
The IPOB Leader said this on Wednesday night in a live communicate
Portraying decision as 'hoax', Kanu said Saturday surveys may not hold on the grounds that 'Jubril of Sudan' will be pursued out of Nigeria.
Kanu deploring about killings of Igbos led by some Southeast governors, further uncovered that he is returning to Nigeria soon.
He stated: "There's no legislature on the planet that doesn't think about IPOB and luckily I met the greater part of them, we don't distribute all via web-based networking media.
"Every one of these saboteurs you see online don't exist. Check their profile and you'll comprehend they're phony. Simply overlook them.
"I'm coming to Nigeria, in power and wonder. I'm coming completely arranged, whatever the Nigerian government needs, we will do it there.
"We required a blacklist of the Zoo. Nigeria was vibrating, we canceled it they ran off track. That is the means by which incredible IPOB is. No measure of terrorizing, capture, killings will prevent us from walking.
"I don't know that their Sham race will hang on Saturday 23rd Feb; in light of the fact that Jubril will be pursued back to Sudan, at that point you will realize that Buhari is dead.
"Its absolutely impossible Jubril can endure a decision in this zoo."