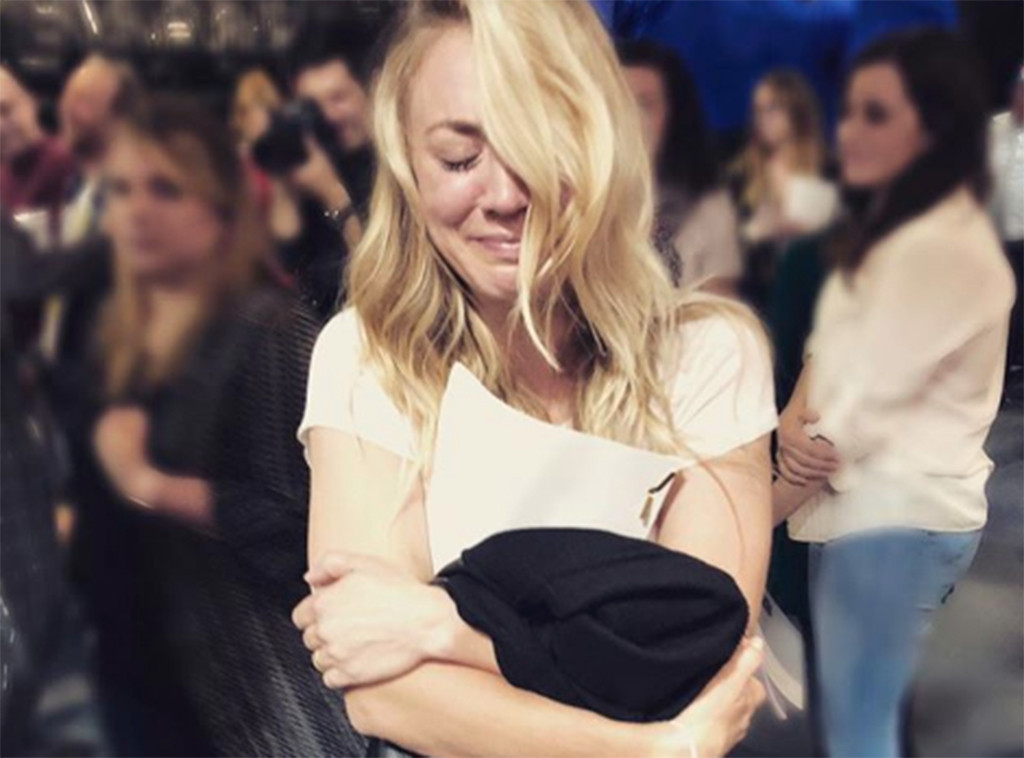 As endings go, it was equal parts sad and satisfying.
As reluctant as Kaley Cuoco was to say goodbye to Penny, the waitress/aspiring actress turned pharmaceutical rep she inhabited for 12 seasons on The Big Bang Theory, when she filmed that final episode in late April, she ultimately left the Warner Bros. soundstage—now to be known forevermore as the The Big Bang Theory Stage—at peace. Thoroughly emotionally drained and covered in tears, but, ultimately, at peace.
"It is the most beautiful finale I have ever seen, and I love finales," she raved to ET just days after filming wrapped. Though her request to learn her character's maiden name was nixed by superstitious producers, "I'm thrilled with [Penny's] ending, yet beginning. It's beautiful. There's not anything catastrophic, it's just beautiful. And the characters are gonna live on in your minds and in your hearts, and I think that's what is so special about it. It's really touching."
And with that ending behind her, it's up to her to dream up a new beginning in her real life.
Parts of her next chapter have already been written, with the founder of Yes, Norman Productions lining up her next projects well ahead of the CBS sitcom's finale tonight. Along with voicing the titular role in DC Universe's Harley Quinn animated series, she's producing and starring in The Flight Attendant, having optioned the thriller back in 2017.
At home, she's going full clean slate, putting the six-bedroom, nine-bathroom Tarzana, Calif. villa she "fell in love with" and purchased from Khloe Kardashian back in 2014 on the market, hopeful that another buyer will appreciate the master bedroom's three walk-in closets and the equestrian print Hermés wallpaper she chose for her breakfast nook. And as she searches for a new residence to hang the robot photos she lifted from The Big Bang Theory's living room set ("I'm so used to looking at them, that I wanted them to be in my home," she explained to E! News of her choice) she and Karl Cook, her husband of nearly a year, are contemplating some other big decisions.
"Kaley and Karl talk about having children," a source tells E! News. "They would love to move to a simpler lifestyle and live on a ranch with their horses. Kaley wants her children to be raised riding horses and having a similar country lifestyle that both her and Karl love."
And with the 33-year-old no longer committed to daily call times on an L.A. soundstage, this may just be the moment. Says the source, "They are both excited for a new chapter together."
Should the former child actress choose to literally ride off into the sunset with her 28-year-old groom, she could do so, easily thriving without ever having to work again. Thanks to the long-running role that saw her netting up to $1 million an episode, a handful of movies shot during hiatus (2015's The Wedding Ringer, 2016's Why Him?) and plum endorsement gigs (filming all those Priceline commercials doesn't come cheap), she landed the second spot on Forbes' 2018 list of highest-paid TV actresses.