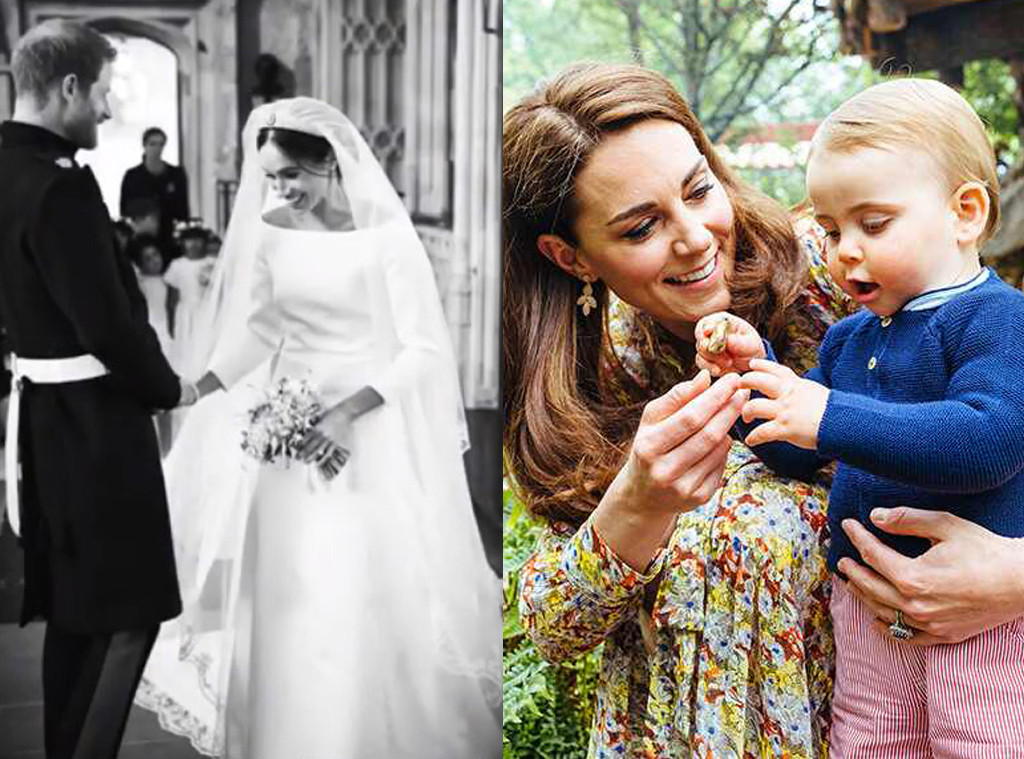 Damned when they don't, damned when they do.
For the past six years, Prince William and Kate Middletonhave been criticized by traditionalist royal-watchers for not making their children—starting with Prince George, and then followed by Princess Charlotteand Prince Louis—more "available." As in, they don't trot their kids out for photographers nearly enough for the liking of those who prefer heartier helpings of royal sightings, especially of George, who's third in line to the throne.
Instead, the Duke and Duchess of Cambridge have been relatively stingy when it comes to sharing those adorable faces with the world, largely waiting for birthdays and the usual milestones—christenings, birthdays, first day of school, wearing a bathrobe to meet President Obama—to release photos, many of them shot by Kate herself. And while George, who turns 6 on July 22, has had more big public moments to speak of than his siblings, including a tour of Australia and New Zealand at 8-months-old, he's still a fairly elusive fellow. Charlotte, who can turn the world on with a wave, doesn't show up if her brother doesn't, and 1-year-old Louis has looked completely different every time we've seen him, so rarely has he been seen.
And yet when some new family photos were released this weekend, the Cambridges were accused of questionable timing.
Apparently it's taboo now to release photos on the same day that someone else releases photos—when that someone else is a very close relative.
In keeping with what's been the theme of the past 12 months for the young royals—or at least the theme that's been supplied for them—Kate and William are facing charges of stealing thunder for sharing family photos just a few hours after Prince Harry and Meghan Marklereleased never-before-seen photos in celebration of their first wedding anniversary.
The Duke and Duchess of Sussex otherwise enjoyed their anniversary privately but released a slew of new wedding pictures, setting the slideshow on their @sussexroyal Instagram page to "This Little Light of Mine," which they used for their recessional—another poignant moment of cultural diversity that made Harry and Meghan's 2018 nuptials a wedding the likes of which most of this family had never experienced, let alone taken part in.
Later on Sunday, the Cambridges shared photos and video from their family trip to the garden Kate designed as part of the Chelsea Flower Show, complete with a barefoot George navigating the rocks around a little flowing stream, Charlotte on a rope swing and Louis toddling around—the first time we've seen him walking.
"It was a case of anything you can do, I can do better," a veteran royal watcher told the Daily Express afterward.
Wait, what?
According to some, the Sussexes and the Cambridges seem to be locked into a game of one-upmanship, with feathers being automatically ruffled when one's good works, which in theory should be the headline of the day, end up overshadowed by competing news that the other one has made.
Short of only working on alternate days so as not to upstage each other, it sounds as though certain clashes can't be avoided entirely. But this is really nothing new for this family.
Even no-nonsense Princess Anne, who is near the top every year when it comes to hours worked (i.e. official appearances made) but also doesn't particularly care for the whole endlessly-wave-and shake-hands part of the job, got annoyed when stories about what Princess Dianawas doing or wearing would knock the stories about the causes she was advocating for on any given day off the page.