One could argue they'd been building up to this moment for months.
There was the L.A. gelato date where they walked hand-in-hand alongside the eldest of his two daughters in early April. The casual stroll through New York City's Central Park in late March following another round of whispers about a breakup. Even a shared kiss aboard a yacht last December before they rang in the new year in Miami.
But when Katie Holmes and Jamie Foxx turned up at Monday night's Met Gala together—Hollywood's closest facsimile to prom night, if only the popular kids attended and iPhone selfies were replaced by hundreds of professional photographers—well, there was no denying their intention.
Even before the previously meticulously private pair posed up for a photo inside, Foxx looping one arm around Holmes' violet tulle Zac Posen, their decision to turn up in a shared town car and even shimmy together to Rihanna as Posen captured every move for his Instagram story was akin to shouting, "Yes, guys, of course we're dating."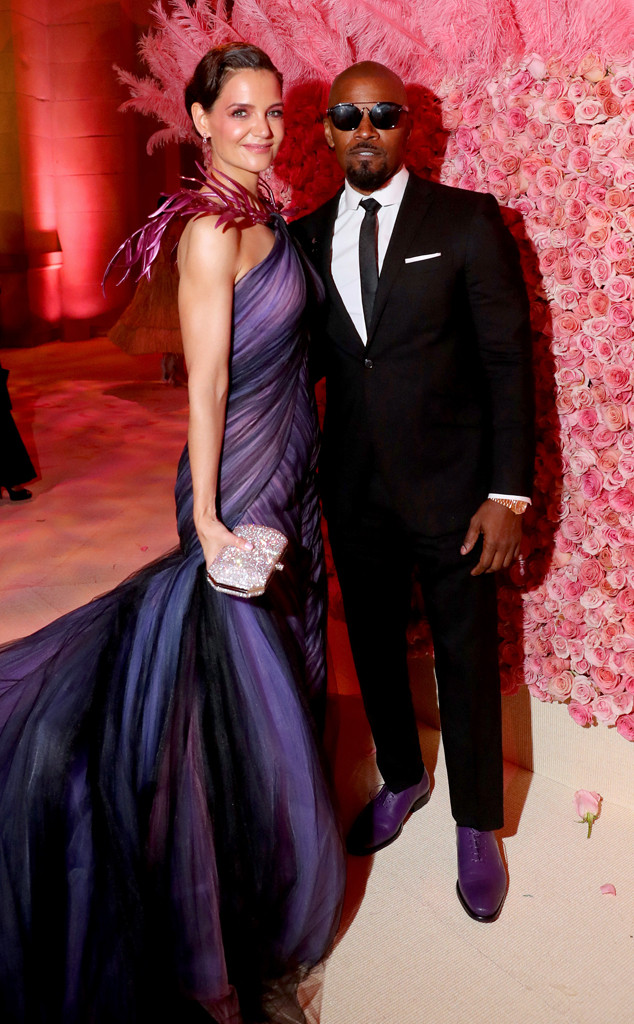 Because the Oscar winning star, 51, and the Ohio-bred actress-producer, 40, have found love and they aren't feeling all that hopeless about it—even if they spent the whole first stage of their relationship doing everything they could to deny what was taking place between them.
In the years since they were spotted dancing together at a charity event in the Hamptons in August 2013, arms slung casually around each other, the actors take on their pairing has transitioned from Foxx's "100 percent not true" and "quite hilarious" assertion to the old stand by "just friends" to an unidentified pal insisting they were "not about to run off and make some serious commitment".
This, as they went from going full-on cloak-and-dagger for any date nights they enjoyed outside of Foxx's sprawling California manse to allowing themselves to be photographed on a largely empty stretch of beach in Malibu during Labor Day weekend 2017. (While an argument could be made they were simply surprised by paparazzi, years of deftly avoiding said cameras would suggest they know exactly how not to be caught.)
Now fully confident in what they have, they're just done with the whole sneaking around phase. "They are feeling more comfortable about being out in public together and not having to hide," an insider tells E! News. "They still don't want to have a public relationship, but it was a lot of effort to keep things under wraps and never be able to go out together. The burden of that has been lifted and they are feeling a lot more free to just go out and do normal things."
Though, admittedly, the skullduggery was fun while it lasted.
Seemingly following the directive that Foxx had set for himself, insisting on Oprah's Next Chapter in 2012, "My thing is like this, this is what I say to all of my friends that are in this business: 'Whoever you're dating, don't let anybody know,'" the pair went to extreme lengths to avoid being spotted, or worse yet, photographed, together as they worked to figure out what exactly was happening between them.