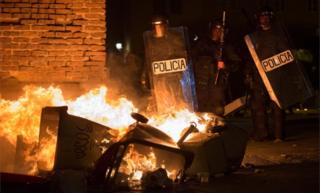 Migrants have clashed with Spanish police in Madrid after the death of a Senegalese street vendor who they say had been chased by officers.
Protesters set fire to a motorbike and dustbins and threw stones in the Lavapiés district.
Officials say Mame Mbaye Ndiaye, said to be in his mid-30s, was found unconscious and died of a heart attack.
At least 19 people were lightly injured in the clashes, officials said. Ten police officers were also hurt.
The clashes are said to have lasted from 21:00 until 01:30 local time (20:00-00:30 GMT), spreading from street to street. Bus stops and some bank branches were damaged, and dustbins set on fire.
Earlier this month, a Senegalese street vendor was shot dead in the Italian city of Florence, sparking large protests by the Senegalese community there.