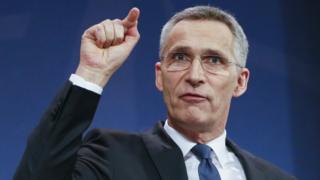 Russia has underestimated the "resolve and unity" of the UK's allies, the head of Nato has said after the nerve agent attack on an ex-spy and his daughter.
Secretary General Jens Stoltenberg said Nato was undergoing its biggest strengthening of collective defence since the end of the Cold War.
The
UK believes Russia is behind the poisoning
, although Moscow denies this.
Meanwhile, investigators say 131 people may have been exposed to the chemical used in the attack in Salisbury.
'UK is not alone'
Russian ex-spy Sergei Skripal, 66, and daughter Yulia Skripal, 33, remain critically ill in hospital, after they were found unconscious on a bench in the Wiltshire city on 4 March.