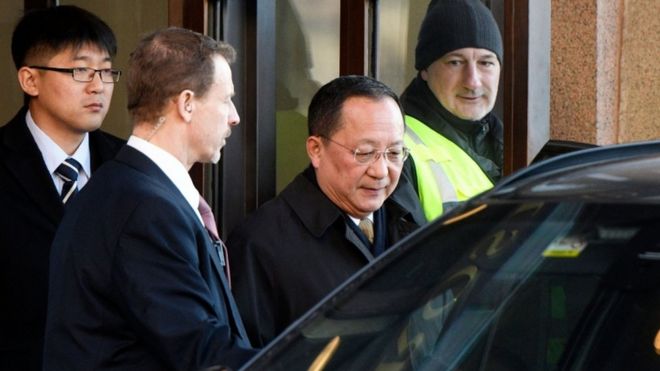 North Korea's foreign minister has attended talks in Stockholm with Sweden's Prime Minister Stefan Lofven, ahead of a possible meeting between US President Donald Trump and Kim Jong-un.
Pyongyang said Ri Yong-ho's trip was for "bilateral relations and issues of mutual concern".
Sweden has a long history of mediating between Washington and Pyongyang.
Mr Ri had already met his Swedish counterpart Margot Wallstrom late on Thursday and early on Friday.
Sweden's foreign ministry said their discussions would focus on tensions between the two Koreas, and Sweden's diplomatic work on behalf of the US in North Korea.
Mr Ri's visit has been extended from the scheduled two days, and he will now stay in Sweden until Sunday, Sweden's SVT Nyheter reports.
The agenda of the talks has broadened, the news site says. One topic is said to be confidence-building measures with the US, including the release of US citizens from North Korean detention.