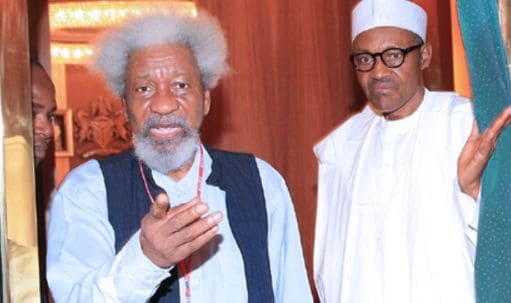 Nigerian Nobel Laureate, and social critic,
Prof. Wole Soyinka
, has urged those saddled with the responsibility of administering justice for social order not to trivialise corruption to score 'dismissive political points.'
He stated this in a statement on Tuesday titled, "Trivialise corruption, Neutralise
The Nobel laureate said it was heartening news that some 20 'concerned lawyers' came together to undertake the mission of cleaning up the Augean stables that seemed to pass for the Nigerian judiciary.
He said, "Some of us do need an institution to which we can look up, of which we should even live in awe. Some find that in religious institutions, others in traditional fixtures, some even in the family and so on. All agree that the Order of Justice is a pre-eminent candidate for collective regard and even self-regulation. No matter, we all know that, without justice, society unravels at the seams, and its citizens resort to self-help.
"I feel especially exercised by recent happenings within that body currently from a dominant perspective: it has become increasingly fashionable to sneer at any anti-corruption preoccupation. No, no one actually ever goes so far as to condone corruption. Perish the thought! Gradually, however, the nation's psyche is being both subtly and brazenly returned to accept not simply corruption as the norm of social relationships, but its heightened product, impunity, as a national emblem. The justification? The machinery that was launched against corruption with such fanfare, it is claimed, has run aground. Selectivity has been cited as proof. Insincerity, non-seriousness, cynical distractions are routine assessments of the current governmental campaign. Even the heady draught of 'stomach infrastructure' – 'na anti-corruption we go chop?' is now applauded, accompanied by guffaws wherever decanted.
"Not surprising then, that it was only a matter of time before the flagbearer of one of the 'parties to beat' came out openly to dismiss the punitive option, delivering the promise of amnesty as one of the corner-stones of his plans for the nation."
Noting that it was election time and issues normally generalised take on enhanced desperation, he added that a recent image stuck to the mind, and for it, Nigerians must be thankful to that desperation born of elections. He stated that impunity covers all crimes, not just material corruption and any social or governance institution which, through act or negligence, failed to stem the tide of criminality within its charge.
"
This has been the case of President (Muhammadu) Buhari in his lacklustre, indeed hands-off approach to the menace of the killer herdsmen – at least at the beginning, before swathes of Nigeria were reduced to slaughter fields, thriving farms erased off the food supply chain of the nation.
"Impunity stalks the land, indeed it is virtually lording it all social interstices. Let no one take my word for it – simply turn the pages of the media any day. Impunity's ravages churn the mind. Somehow, this nation – and here again we turn to our learned friends – this nation generally failed to recognise, much less learn from the murder and enabling implications of the unsolved murder of Bola Ige, the nation's Attorney-General and Minister of Justice. The Bar Association accepted the casual disposition of its erstwhile captain and has – understandably perhaps? – moved on…."
Soyinka said he brought up the murder of Ige principally to exclaim that "history strikes again" and also to decry the unbelievably short memory span of Nigerians.