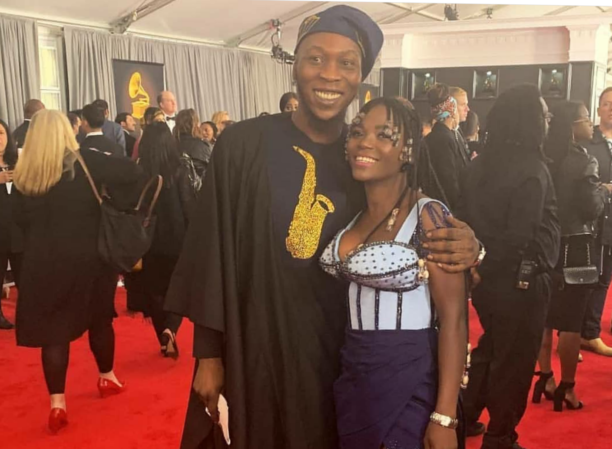 Afrobeats artist Seun Kuti force a thrilling performance at the premiere ceremony of the 61st Grammy Awards.
Seun, the youngest son of the legendary Fela Anikulapo-Kuti, failed to snag a win within the 'World Music Award' category during which he was nominated.
He, however, was the only Nigerian creative person to perform at this year's ceremony hosted by Shaggy where seventy categories of Grammy Awards were given.
Seun performed alongside Malian singer/songwriter Fatoumata Diawara and Ángela Aguilar, Aida Cuevas and Natalia Lafourcade to clear up the celebrations. The 36-year-old earned his 1st ever Grammy nomination for his 2018 released album, 'Black Times' and lost to South Africa's Soweto Gospel Choir.
Also read:
Refugee footballer will not be extradited to Bahrain: prosecutor
The choir grabbed their third Grammy Awards for the album 'Freedom', during a category that had the likes of Bombino from Niger, Mali's Fatoumata Diawara and Soviet's Yiddish Glory. this is the fifth time a Kuti has been nominated for the Grammys.
The older Femi Kuti has been nominated fourfold in 2003, 2010, 2012 and in 2014 for his album 'No Place For My Dream'. Seun has led his late father's band 'Eqypts 80′ since he was 14 years-old.
His 2008 debut album, 'Many Things', was produced by Martin Meissonnier, World Health Organization had already produced 2 albums for his father. In 2011, he free a studio album called 'From Africa with Fury: Rise'. it was recorded in London, created by Brian Eno, John Reynolds and Seun himself. Seun Kuti was featured in Calle 13's song "Todo se mueve" (Everything Moves), on their 2010 album Entren los que quieran. (NAN)