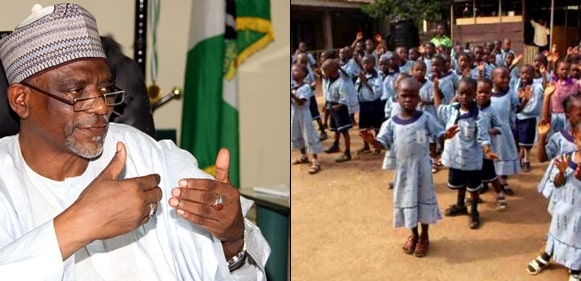 FG to imprison guardians who won't enlist childreThe Minister of Education, Malam Adamu, says Nigeria will before long impact an arrangement to indict guardians who wouldn't select their offspring of school age in schools the nation over.
Adamu made this known in Abuja on Monday while tending to newsmen amid the ninth release of the Weekend Ministerial preparation, NAN reports.
He said guardians who harm endeavors of the legislature in decreasing the quantity of out-of-younger students would before long be condemned and would be made to confront the fierceness of the law.
"Except if the issue of guardians who rejected their youngsters going to class is made a wrongdoing, and we begin imprisoning guardians, the threat of out of younger students won't be settled.
"There are numerous who are as yet working behind culture, religion.
"So the service is to impact this arrangement with the goal that any parent whose offspring of school age won't take them to class will be imprisoned,'' he said.
Talking on coordinating award and other intercession assets for fundamental training in Nigeria, the priest said an aggregate of N350 billion had been consumed on the sub-division as against the N360 billion spent by the past organization.
"In the six years going before the Buhari Administration, somewhere in the range of 2009 and 2014, the Federal Government spent about N360 billion worth of intercession on Basic Education covering reading material, educator proficient advancement, development of classrooms and library assets among others," he said.
Adamu underlined that defilement and absence of political will from state governments were among different reasons in charge of the breakdown of essential training over the states.
"Having arrived at this difficult resolution, the Federal Government chose to deduct from source, some portion of the last tranche of the Paris Club discount from every one of the states that have not had the capacity to get to their monies from (UBEC).
"In the event that this frame of mind of purposeful refusal with respect to states to give partner financing to fundamental training proceeds, at that point the Federal Government will have no way out than to support its procedure of deducting partner subsidizing of states rate from source,'' he said.
n in school