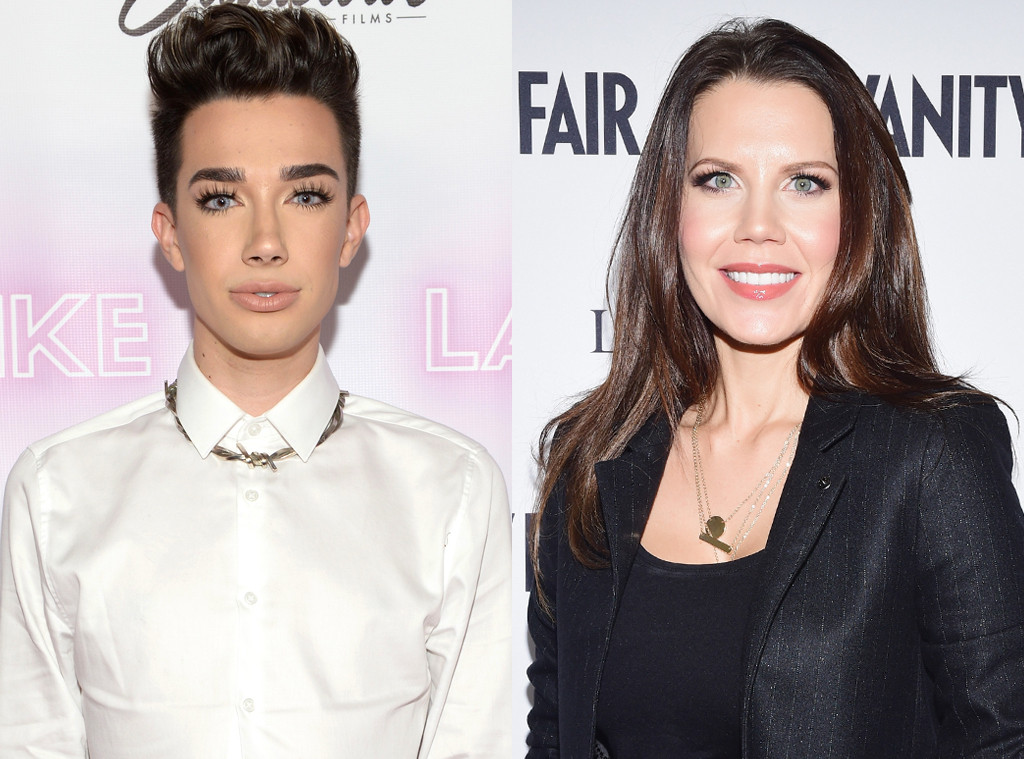 It's the feud the beauty community never saw coming:
James Charles
and
Tati Westbrook
are no longer friends.
After weeks of drama and speculation, Tati released a 43-minute video expressing the hurt and dismay she felt over James Charles' recent actions. Fans are in shock over the dramatic fallout since the gurus are two prominent members of the beauty community who frequently collaborated on videos and appeared to be close.
For those who are unaware of the ongoing drama, here's what you need to know: On April 22, James ignited backlash with his Instagram Story promoting Sugar Bear Hair Care vitamins, which is a competitor to Tati's hair supplement company, Halo Beauty. Tati, who James has heralded as his mentor, then shared on Instagram that she felt "betrayed" and "lost" amidst the controversy. She never specifically mentioned the individual who "used" her, but people were able to put two and two together.
James, who has over 16-million followers on YouTube, later apologized to Tati in a tearful Instagram video. "I want to publicly apologize to my close friend, Tati," the 19-year-old explained, according to Newsweek. "She has been like a mother to me since my first days in this industry and has given me more love, support, resources and advice than I could ever ask for."
He added, "This weekend I did an Instagram story for sleep vitamins that I've been taking because the brand helped me with security when the crowd around me at Coachella became unsafe. I did not accept any money from this post."
Charles went on to say that he didn't think of the consequences of his actions. In her video, Tati alleges James Charles is lying about the reasons behind his sponsored post.
James' tearful apology and Tati's subsequent silence on the topic was dramatic enough, but fellow YouTuber Gabriel Zamora took it up a notch by calling out Tati for her "fraudulent behavior." Gabriel said, "All these videos are being made where James is being made out to be this horrible human being and i'm just confused as to what happened." Zamora explained that he doesn't see any wrongdoing on James' behalf and Tati was making it a big deal in the name of self-promotion.
This seemed to be Tati's boiling point, because she is now sharing her side of the story in a video titled, "Bye Sister," on YouTube. "This is going to be intense, different and this is absolutely not a video I ever thought, in a million years that I would be making," she starts. "But I feel, after a lot of thought, that it's necessary for me to have a chat with you guys."
In summary, Tati explains that she has always supported and promoted James Charles without the expectation of anything in return. "My relationship with James Charles is not transactional. I have not asked him for a penny, I have never been on his Instagram," she says.
On the other hand, Tati claims to have arranged brand deals, contracts and various other opportunities for him because she wants "to see people grow and step into themselves." Her efforts were also aided by her husband James Westbrook, who she feels Charles also disrespected.
Among the many reasons that she is cutting ties with James is her belief that he is ungrateful for the opportunities he has been given and perceived unwillingness to help others. "How entitled do you have to be to think that you have it rough? You are a 19-year-old millionaire. You do not get to wake up and stress out about how unfair your job is. That is so ridiculous to me," she vents. "Get off your high horse and have some respect. You don't have any for the people who are in this industry and that's the sad fact."
She also seems to take issue with the fact that she would frequently have him as a guest on her channel, which boasts over six-million followers, but he rarely invited her to his.