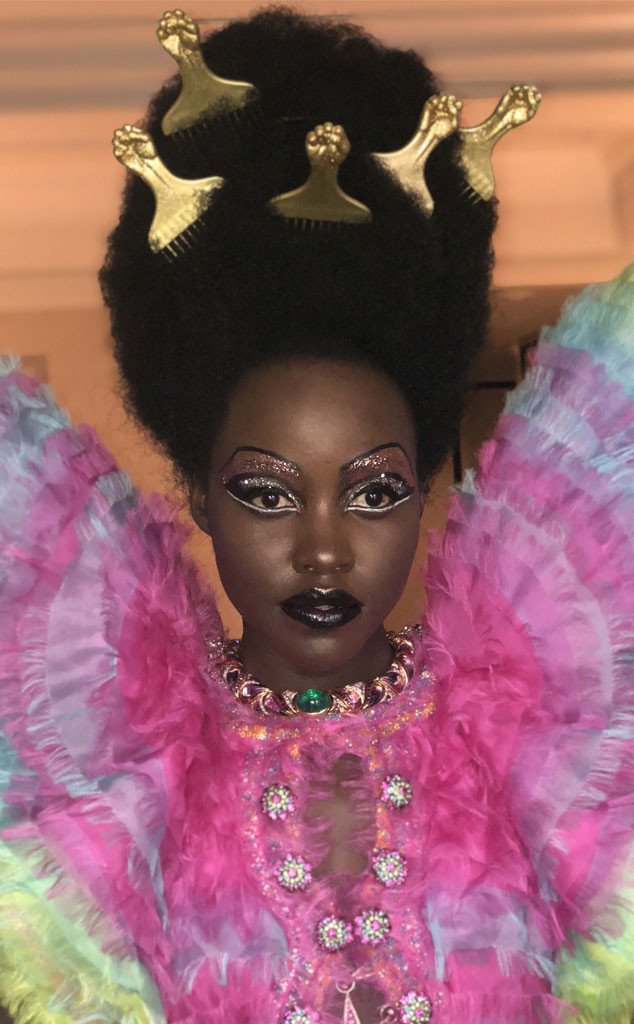 When Lupita Nyong'o graced the 2019 Met Gala in an electrifying look, the party was over. Because she shut. it. down.
The Us actress painted the pink carpet with her rainbow-colored Versace design, which was totally on par with the theme, "Camp: Notes on Fashion." Her hair and makeup were just as whimsical and animated as her gown, as she played with glitter, vibrant pink tones and more. It was theatrical, over-the-top and truly a sight to see—and no detail went unnoticed, like the gold combs that doubled as hair accessories.
If her overall look seemed a bit familiar, that's because it was inspired by none other than the legendary drag queen, Divine. From the late performer's iconic roles in John Waters' movies, Female Troubles, Pink Flamingos and Hairspray, Lupita's makeup artist, Nick Barose said he wanted to exude that "camp attitude."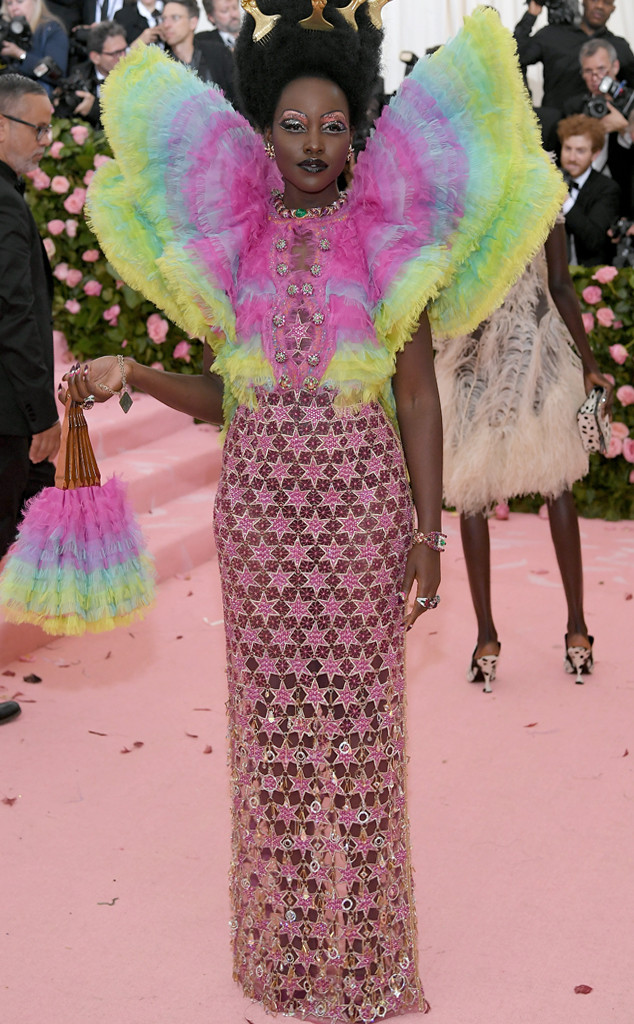 "For this look on Lupita, we had so much fun doing it," he exclusively told Humbsblog UK of her eccentric look. "This is definitely the most dramatic transformation I have done on her."
He continued, "We were gagging when we started drawing [her] eyebrows so high! That's what camp attitude is. You have fun and carry on."
For Barose, tonight's Met Gala was not about the "less is more" approach. In fact, he felt "more is more and the drama just lends itself to the look you create."
Of her dramatic eye makeup, he said, "the eyes and eyebrows are accentuated with a cartoon-vibe, making the look more than just a cat-eye with something fun and over-the-top. I'm not doing it for fashion tonight—I'm doing it for Divine (and John Waters!)."
But before going HAM with glitter galore, Nick prepped Lupita's skin to perfection with the Lancôme Absolue Revitalizing & Brightening Soft Cream and the Lancôme Advanced Génifique Eye Light Pearl.
Barose explained that to ensure her makeup would last all night long, he used the Lancôme Prep & Matte Primer. "For a bold, '80s blush look with added drama," he used the foundation, concealer, contour and blush from the brand.
Now for the main attraction, the Us star's eyes. Nick used all Lancôme products, however, to create that shimmery effect, he used the Lancôme Ombre Hynôse Stylo Shadow Stick in in 34 Monogold in the center of her lids. "It added highlight."
He painted her brows, similar to how Divine would do hers, by using a small angled brush and going in with the Lancôme Sourcils Gel in 06 Noir. He lined both her lower and upper lash lines with the Lancôme Drama Liqui-Pencil in Noir Intense.
As for her bold lips? He slipped on the Lancôme L'Absolu Lacquer Gloss in 490 Not Afraid.
It's safe to say Lupita's overall look is one to remember. And when you channel your inner Divine, you can't go wrong!